Quality Care Starts with Having the Time to Listen
Same Day Appointments Available
WELCOME TO PERSONALIZED HEALTHCARE

David A. Chappell, MD | Concierge Physician | Petaluma, CA
As a patient in my practice, you'll receive truly patient-focused and personalized healthcare. My smaller practice size provides my patients and me more quality time together…not only to treat complex issues but to focus on prevention and wellness.
I realize for any patient, choosing a physician to entrust your care to is a big decision. Therefore I'd like to share some information about me and my approach to patient care.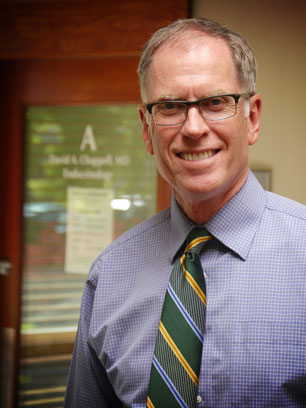 ABOUT DAVID A. CHAPPELL, MD
Private Practice, Endocrinology, Petaluma, CA, 1998-Present
Staff Physician, Petaluma Valley Hospital, Petaluma, CA 1998-2007; Consulting Physician 2007-Present
Staff Physician, Novato Community Hospital, Novato, CA 1999-2002; Courtesy Staff 2014-Present
Associate Professor, University of Iowa College of Medicine, Iowa City, IA 1994-1998
Adjunct Assistant Professor, Department of Medicine, University of California, San Francisco, 1988
Board Certified, American Board of Internal Medicine, 1982; Subspecialty Board in Endocrinology, 1985
Dr. Chappell is pleased to offer discounted pricing to his concierge patients for these new, non-invasive aesthetic services:
SculpSure
SculpSure, a laser-induced fat sculpting treatment. This state-of-the-art, FDA-cleared laser procedure is non-invasive, and can safely remove unwanted fat deposits on the abdomen, chin, flanks and thighs. SculpSure's body contouring technology can destroy the targeted fat cells safely in just 25 minutes without affecting the skin's surface. There is no recovery time following treatment, so you can resume your daily activities immediately. Fat destruction is permanent after treatment.
TempSure
TempSure Envi for skin tightening and TempSure Vitalia for vaginal rejuvenation and health, FDA-cleared devices using non-invasive, state-of-the-art technology to stimulate collagen production. TempSure Envi is designed to minimize fine facial lines and wrinkles, tighten lax skin and improve the appearance of cellulite. TempSure Vitalia restores and improves vaginal functionality, urinary incontinence and genital-urinary comfort.
WHAT IS CONCIERGE MEDICINE?
Concierge medicine, also known as membership medicine, is a relationship between a patient and a primary care physician in which the patient pays an annual fee or retainer.
In exchange for the retainer, doctors provide enhanced care services, including a commitment to limit patient loads to ensure adequate time and availability for each patient.
Concierge Medicine Benefits:
Timely office visits
Extended office hours
House Calls
Discovering what is right for each patient
Direct communications to me during office hours (and after!)
Collaborative Care
A strong focus on preventive medicine and long term health and wellness
Adult dependent children of members are welcome
Care for visiting family and friends
Personal care and commitment

I invite you to call my office today and see what's possible, or click here to learn more about my practice.
Or call — 707.762.0001
Open Payments Database Notice
For informational purposes only, a link to the federal Centers for Medicare and Medicaid Services (CMS) Open Payments web page is provided here. The federal Physician Payments Sunshine Act requires that detailed information about payment and other payments of value worth over ten dollars ($10) from manufacturers of drugs, medical devices, and biologics to physicians and teaching hospitals be made available to the public.