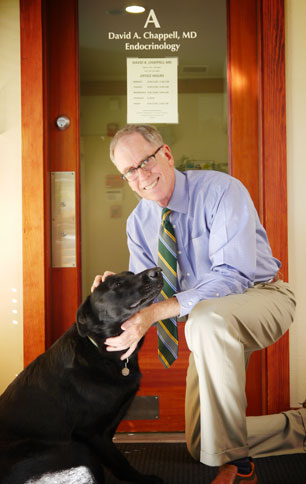 A Personal Message to My Patients
From the time I was a young boy I knew I wanted to follow in my father's footsteps and become a doctor. When I was 5 years old, I went to India with my family on a medical mission. During that visit, I vividly remember playing the role of a doctor in a skit. The first moment I put a stethoscope around my neck, I realized that being a physician and helping people was my calling. My father taught me from an early age that "More things are missed by not looking than by not knowing." His words have guided me…helping me to always delve deeper into my patients' healthcare issues, well beyond endocrine concerns.
Unfortunately, the medical landscape has changed in recent years. Doctors are rewarded for speed and technology, not looking, listening and thinking compassionately. This trend has threatened my ability to provide you, my patient, with the highest quality of care.
The time we spend together is fundamental to our doctor-patient relationship. I am committed to spending all the time needed and working until the day is done to make a more targeted diagnosis or determine a course of action. I refuse to compromise this standard.
In 2014, I decided to enhance my endocrinology practice by establishing a personalized primary care medical practice, which has allowed me to care for each patient as a whole person without limitation. In my concierge medicine practice, I have more time to spend with you and focus on all of your medical needs in a comprehensive manner. I have the opportunity not only to be reactive when you need medical attention, but also to be proactive in preventive healthcare to keep you feeling your best.
It has been a fulfilling and exciting chapter in my professional career! It would be my privilege to be your personal physician for many years to come.
David Chappell, MD
Credentials
Private Practice, Endocrinology, Petaluma, CA, 1998-Present
Staff Physician, Petaluma Valley Hospital, Petaluma, CA 1998-2007; Consulting Physician 2007-Present
Staff Physician, Novato Community Hospital, Novato, CA 1999-2002; Courtesy Staff 2014-Present
Associate Professor, University of Iowa College of Medicine, Iowa City, IA 1994-1998
Assistant Professor, University of Iowa College of Medicine, Iowa City, IA 1988-1994
Adjunct Assistant Professor, Department of Medicine, University of California, San Francisco, 1988
Board Certified, American Board of Internal Medicine, 1982; Subspecialty Board in Endocrinology, 1985
Educational Background
Endocrinology Fellowship, University of California, San Francisco, 1982-1985
Residency, Internal Medicine, Barnes Hospital Washington University, St. Louis, 1979-1982
MD, Southwestern Medical School, Dallas, TX, 1975-1979
BA, Austin College, Sherman, TX, 1971-1975
Honors and Awards
Recipient, Clinical Investigator Award, National Institutes of Health, 1987-1992
Recipient, National Research Service Award, National Institutes of Health, 1985-1987